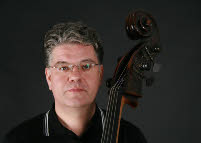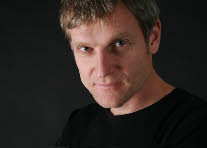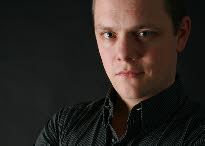 Pepe Berns has worked with many nationally and internationally known musicians, such as Woody Shaw, Bennie Golson, Ben Monder, Jamey Haddad and Chris Potter. He studied in Cologne, in Los Angeles with Charlie Haden and in New Yorkwith Harvie S. and Maria Schneider. The recordings with his own band "Pepe Berns Network" establish Pepe as a skilled composer as well as performer. Pepe lives in Berlinand is a regular member of David Friedman's "Tambour" (together with Peter Weniger and Jean-Louis Matinier). Currently, Pepe is professor for double bass and ear training at the Musikhochschule Leipzig.
For many years Heinrich Köbberling has been one of the most in-demand drummers on the German scene. He studied in Hamburg and at the New School in New York and has been a sideman on many recordings. Acting as performer and composer he has released his own CD "Pisces" with bassist Marc Johnson. Heinrich has performed with many musicians, such as Richie Beirach and Gary Peacock. He is a regular member of the Ernie Watts Project Europe, as well as the bands of Julia Hülsmann and Aki Takase. Heinrich is professor for drums at the Musikhochschule Leipzig.
Sebastian Weiss studierte zunächst Jazz- und klassisches Klavier bei Dieter Glawischnig in Hamburg, später bei Jaki Byard und Mark Soskin in New York. Bei Fresh Sound New Talent, bekannt als New Yorker Talentschmiede (u.a. Brad Mehldau, Mark Turner), veröffentlichte er bereits zwei CDs mit eigenen Kompositionen ("Polaroid Memory" und "Momentum"). Sebastian Weiss spielte bisher mit so unterschiedlichen Musikern wie Gitte Haenning, Rodney Jones, Till Brönner, Jane Monheit und Miguel Zenon. Dabei führten ihn seine Auftritte in legendäre Clubs wie Blue Note und Sweet Basil sowie auf namhafte Festivals in Saragota und New York. Sebastian Weiss lebt in London und Berlin.